Description
The Kylie Clutch has a pyramid studded handle which makes for easy use! A celeb and retailer favorite, this clutch is a best-seller and a must!
- Silver pyramid stud detail
- Magnetic snap closure
- Interior zipper pocket
- Silk/satin lining
- Leather imported from Italy
- Made in USA, in Los Angeles, CA!
Measurements
Height: 6.5 in / 16.5 cm
Width: 10 in / 25.5 cm
Depth: 2 in / 5 cm
Related Products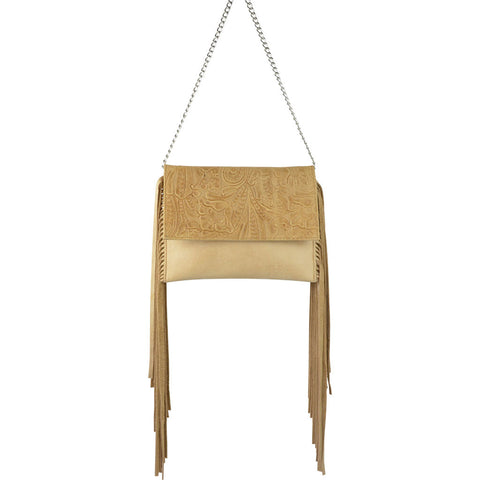 Rectangle flap clutch with fringe side detail. Chain strap tucks inside to double as clutch. - Magnetic snap closure - Interior pocket/card slot - Silk/satin lining - Leather imported from Italy - Made in USA Measurements Height: 7.75 in / 19.75 cm Width: 10 in / 25.5 cm Depth: 2 in / 5 cm Drop: 16.5 in / 42 cm
$285.00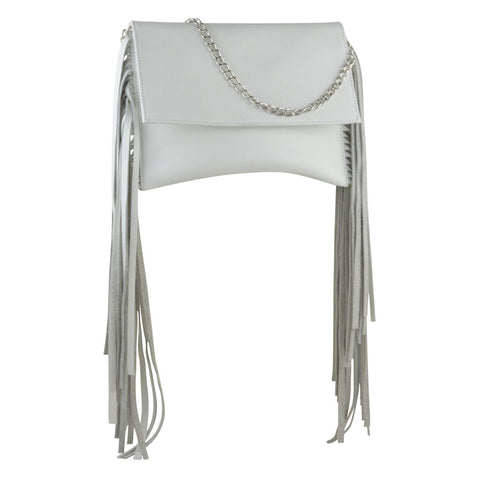 Rectangle flap clutch with fringe side detail. Chain strap tucks inside to double as clutch. - Magnetic snap closure - Interior pocket/card slot - Silk/satin lining - Leather imported from Italy - Made in USA Measurements Height: 7.75 in / 19.75 cm Width: 10 in / 25.5 cm Depth: 2 in / 5 cm Drop: 16.5 in / 42 cm
$285.00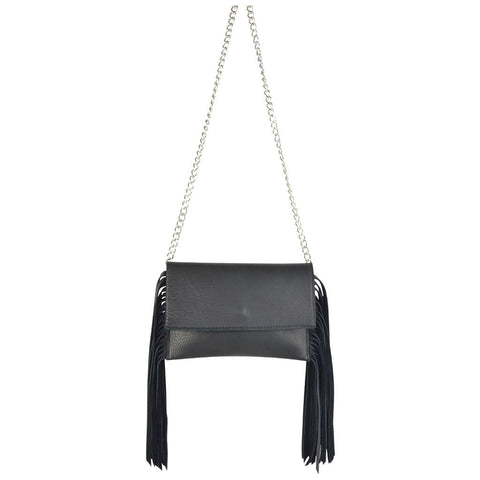 Rectangle flap clutch with fringe side detail. Chain strap tucks inside to double as clutch. - Magnetic snap closure - Interior pocket/card slot - Silk/satin lining - Suede imported from Italy - Made in USA Measurements Height: 5.5 in / 14 cm Width: 7.75 in / 19.75 cm Depth: 1 in / 2.5 cm Drop: 23 in / 58.5 cm
$179.00 - $189.00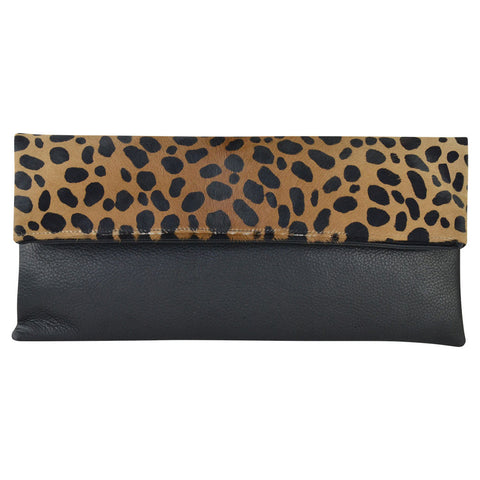 This color-blocked fold over clutch is perfect for all of your essentials and then some! With a top zip closure, and hidden magnetic snaps; the Everly Clutch is definitely one of our favorite clutches yet! - Top zip closure - Hidden magnetic snaps - Silk/satin lining - Leather imported from Italy - Made in USA Measurements Height: 6.25 in / 16 cm Width: 13 in / 33 cm Depth: 2 in / 5 cm
$259.00
The Willow Convertible Clutch is super functional with a studded handle and chain strap that make for easy use! - Magnetic snap closure - Interior pocket/card slot - Silk/satin lining - Leather imported from Italy - Made in USA Measurements Height: 6 in / 15.25 cm Width: 10 in / 25.5 cm Depth: 2 in / 5 cm Drop: 23 in / 58.5 cm
$285.00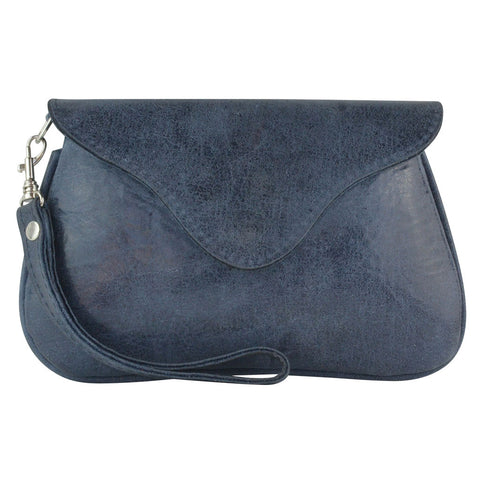 The perfect clutch for a night out of hands free fun! The Kia Wristlet fits your smartphone, lipgloss, cash and keys, what more could you want for a night on the town? - Magnetic snap closure - Removable strap - Leather imported from Italy - Made in USA Measurements Height: 4.5 in / 11.5 cm Width: 7 in / 17.75 cm Depth: 2.5 in / 6.25 cm
$149.00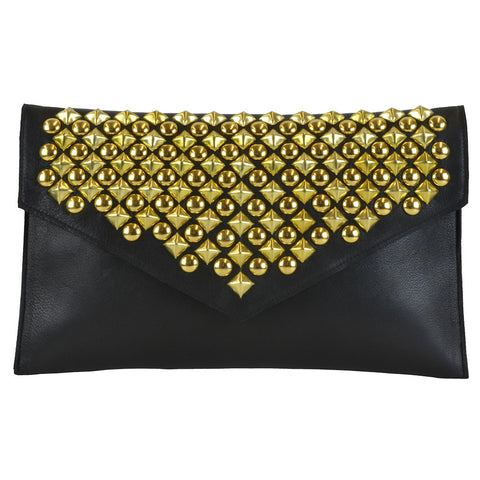 The Blair Clutch is a twist on an envelope clutch with a heavily-studded flap sure to turn heads! - Magnetic snap closure - Interior pocket/card slot - Leather imported from Italy - Made in USA Measurements Height: 6.75 in / 17.25 cm Width: 12.25 in / 31 cm Depth: 1 in / 2.5 cm
$209.00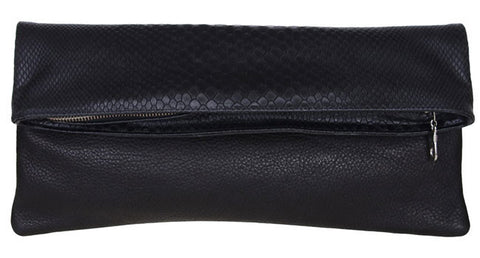 This color-blocked fold over clutch is perfect for all of your essentials and then some! With a top zip closure, and hidden magnetic snaps; the Eve Clutch is definitely one of our favorite clutches yet! - Top zip closure - Hidden magnetic snaps - Silk/satin lining - Leather imported from Italy - Made in USA Measurements Height: 6.25 in / 16 cm Width: 13 in / 33 cm Depth: 2 in / 5 cm
$219.00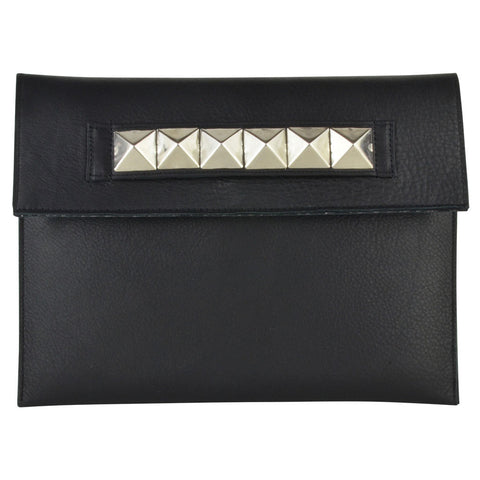 A fun studded tech case that doubles as a clutch! Fits most iPads and Android tablets! - Magnetic snap closure - Leather imported from Italy - Made in USA Measurements Height: 8 in / 20.25 cm Width: 10.5 in / 26.75 cm Depth: 1 in / 2.5 cm
$285.00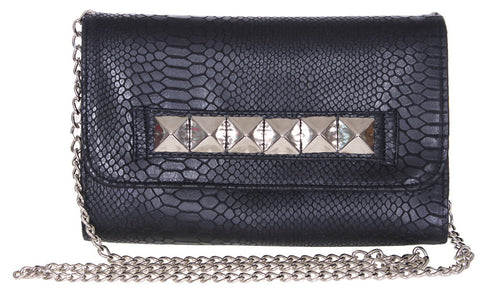 The Kylie Chain Clutch has a pyramid studded handle and chain to wear as a shoulder or crossbody bag. The chain can be tucked in to be used as a clutch, and the handle makes for easy use! A celeb and retailer favorite, this clutch is a must! - Silver chain - Silver pyramid stud detail - Magnetic snap closure - Interior zipper pocket - Silk/satin lining - Leather imported from Italy - Made in USA, in Los Angeles, CA! Measurements Height: 6.5 in / 16.5 cm Width: 10 in / 25.5 cm Depth: 2 in / 5 cm
$305.00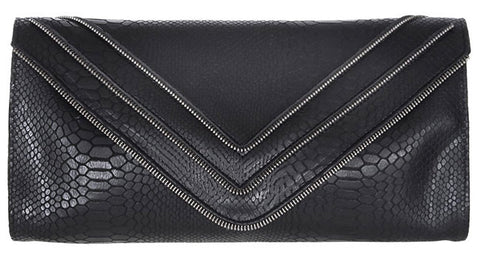 This envelope clutch is our most classic, and a true celeb favorite! From Alessandra Ambrosio and Hilary Duff, to shows like Gossip Girl and 90210- the Hilary Zipper Clutch is a best seller and we know why! - Magnetic snap closure - Interior zipper pocket - Silk/satin lining - Made in USA Measurements Height: 6.25 in / 16 cm Width: 13 in / 33 cm Depth: 2.5 in / 6.25 cm
$305.00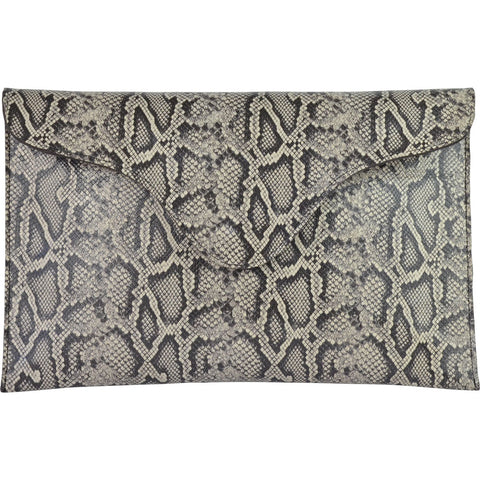 The Blake Clutch is one of our best selling clutches! A simple yet edgy envelope clutch with sure to turn heads! - Magnetic snap closure - Interior pocket/card slot - Leather imported from Italy - Made in USA Measurements Height: 8 in / 20.25 cm Width: 13 in / 33 cm Depth: 4 in / 10.25 cm
$129.00