Description
Our most popular chain crossbody now in VEGAN leather! Our cork is totally vegan, cruelty free, and ready to be the center of attention!
- Chain strap
- Magnetic snap closure
- Interior pocket/card slot
- Natural fiber cork imported from Spain
- Made in USA, in Los Angeles CA!

Measurements
Height: 5 in / 12.75 cm
Width: 8 in / 20.25 cm
Depth: 2 in / 5 cm
Drop: 23 in / 58.5 cm
Related Products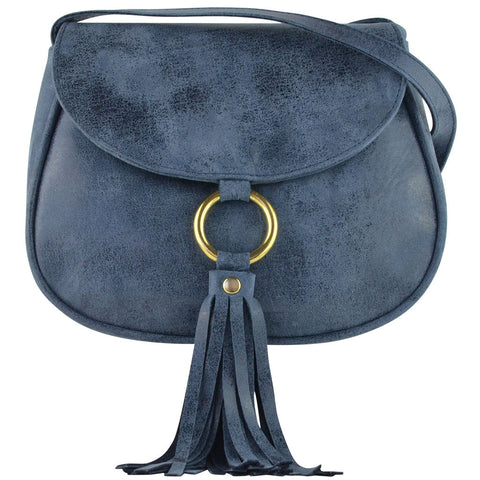 Mini crossbody saddle bag with ring and tassel detail. - Magnetic snap closure - Interior zipper pocket - Silk/satin lining - Leather imported from Italy - Made in USA Measurements Height: 9 in / 22.9 cm Width: 7 in / 17.8 cm Depth: 2.25 in / 5.7 cm Drop: 22 in / 55.9 cm
$239.00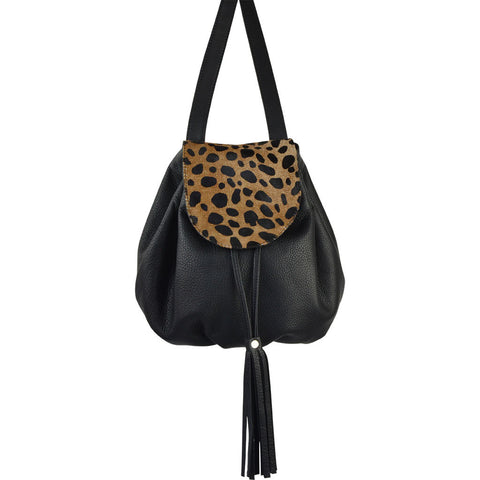 The Cody is the perfect mini backpack to grab and go! Whether you're on your way to class, or a festival with friends- she makes the perfect companion. With an easy drawstring closure and adjustable straps, the Cody backpack fits all of your essentials and then some! - Magnetic snap closure on flap - Adjustable drawstring - Interior magnetic snap - Interior pocket - Silk/Satin Lining - Leather imported from Italy - Made in USA Measurements Height: 11.5 in / 29.2 cm Width: 12 in / 30.5 cm Depth: 6.5 in / 16.5 cm
$329.00
The Cayden Backpack is one of our best-selling backpacks! The perfect 'medium' size makes for toting just about anything you might need, and the double-tassle drawstring adds just the perfect amount of fringe! With it's drawstring closure and adjustable straps, the Cayden Backpack is a fan favorite and we know why! - Magnetic snap closure on flap - Adjustable drawstring - Interior magnetic snap - Interior zipper pocket - Silk/Satin Lining - Leather imported from Italy - Made in USA Measurements Height: 11.5 in / 29.2 cm Width: 12 in / 30.5 cm Depth: 6.5 in / 16.5 cm
$415.00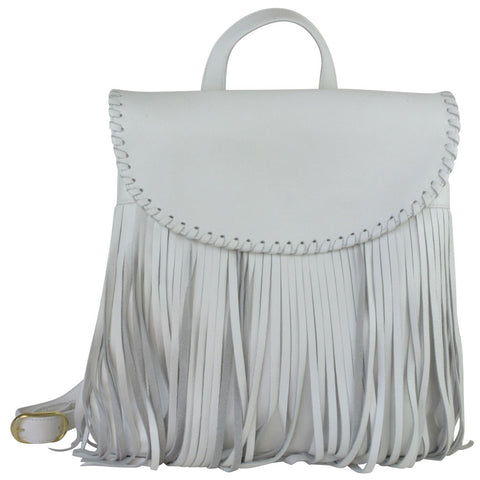 This fringe backpack is functional and fashionable! Not one but TWO interior zipper pockets, as well as two separated compartments, this bag is roomy enough for just about anything! - Two interior zipper pockets - Magnetic snap closure on flap - Magnetic snap closure in interior - Adjustable straps - Silk/satin lining - Leather imported from Italy - Made in USA Measurements Height: 13 in / 33 cm Width: 15 in / 38.1 cm Depth: 7 in / 17.8 cm
$449.00 - $495.00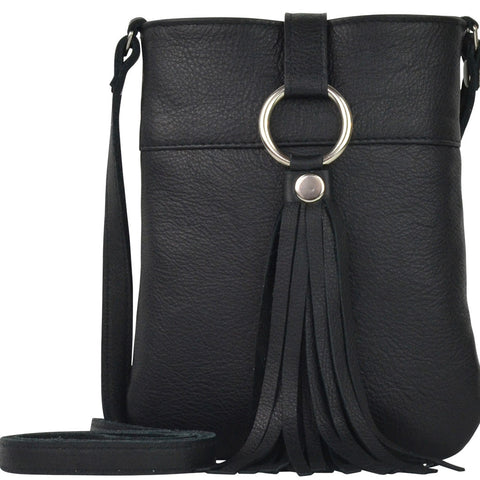 The Daisy Crossbody is the perfect little bag for your phone & essentials! Perfect for your smartphone, lipgloss, money and keys, the tassel detail is sure to turn heads! - Leather strap - Interior magnetic snap closure - Silk/satin lining - Leather imported from Italy - Made in USA Measurements Height: 8 in / 20.3 cm Width: 6.5 in / 16.5 cm Depth: 1 in / 2.5 cm Drop: 23 in / 58.4 cm
$165.00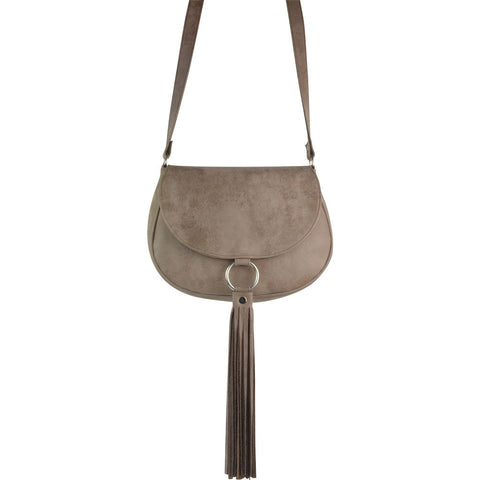 Large crossbody saddle bag with ring and tassel detail. - Magnetic snap closure - Interior zipper pocket - Silk/satin lining - Leather imported from Italy - Made in USA Measurements Height: 12 in / 30.5 cm Width: 9 in / 22.9 cm Depth: 4 in / 10.2 cm Drop: 22 in / 55.9 cm
$395.00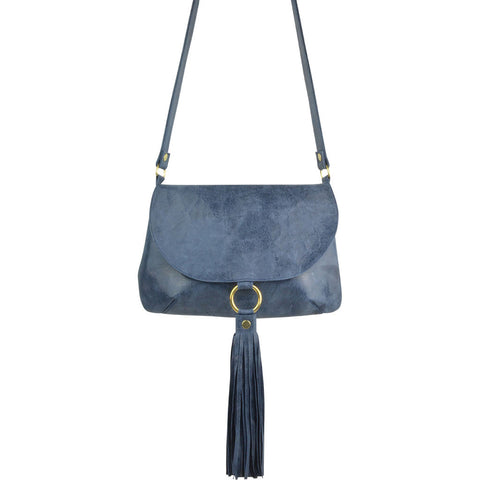 Crossbody saddle bag with ring and tassel detail, and stitched corners. - Magnetic snap closure - Interior zipper pocket - Silk/satin lining - Leather imported from Italy - Made in USA Measurements Height: 12.5 in / 31.8 cm Width: 8 in / 20.3 cm Depth: 3.5 in / 8.9 cm Drop: 22 in / 55.9 cm
$369.00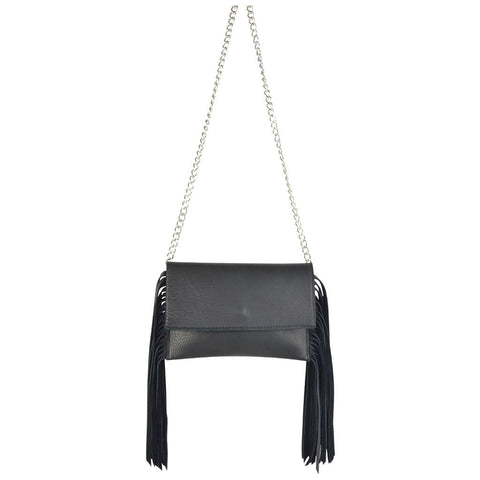 Rectangle flap clutch with fringe side detail. Chain strap tucks inside to double as clutch. - Magnetic snap closure - Interior pocket/card slot - Silk/satin lining - Suede imported from Italy - Made in USA Measurements Height: 5.5 in / 14 cm Width: 7.75 in / 19.75 cm Depth: 1 in / 2.5 cm Drop: 23 in / 58.5 cm
$179.00 - $189.00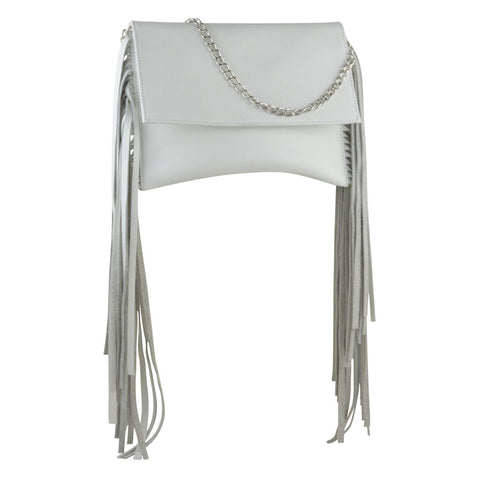 Rectangle flap clutch with fringe side detail. Chain strap tucks inside to double as clutch. - Magnetic snap closure - Interior pocket/card slot - Silk/satin lining - Leather imported from Italy - Made in USA Measurements Height: 7.75 in / 19.75 cm Width: 10 in / 25.5 cm Depth: 2 in / 5 cm Drop: 16.5 in / 42 cm
$285.00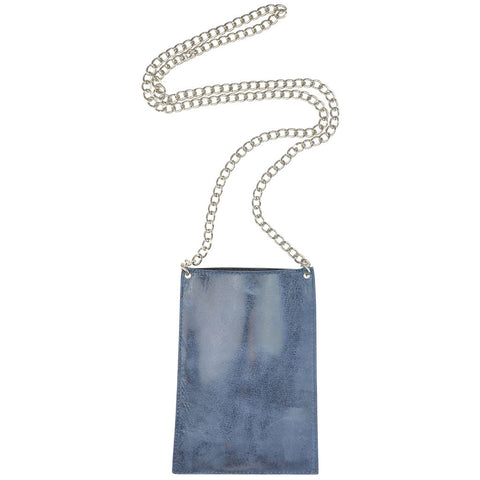 Chain crossbody pouch which doubles as a tech case! Fits all Apple and Droid phones. - Chain strap - Interior magnetic snap closure - PVC lining - Leather imported from Italy - Made in USA Measurements Height: 8 in / 20.3 cm Width: 5.5 in / 14.0 cm Depth: 1 in / 2.5 cm Drop: 23 in / 58.4 cm
$98.00
This cute little drawstring bag with tassel and grommet detail is the perfect size for your phone, lip gloss and credit cards! - Drawstring closure - Silk/satin lining - Leather imported from Italy - Made in USA Measurements Height: 9 in / 22.75 cm Width: 7.5 in / 19 cm Depth: 3 in / 7.5 cm Drop: 23 in / 58.5 cm
$169.00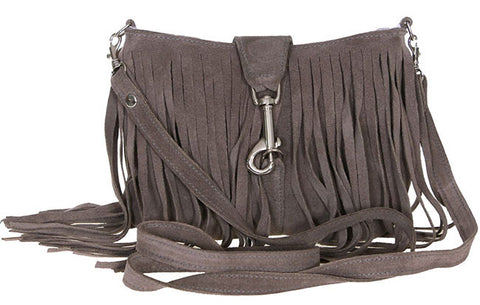 Fringe crossbody with clip front closure! - Removable strap - Silk/satin lining - Made in USA Measurements Height: 6.5 in / 16.5 cm Width: 7.5 in / 19 cm Depth: 1.75 in / 4.5 cm Drop: 23 in / 58.5 cm
$165.00