Description
The Brooke is one of our all-time best selling bags! With it's edgy zipper trim and chain strap, wear it as a crossbody or tuck in the chain to use as a clutch! Perfect for your phone, lipgloss and credit cards, the Brooke is a must have!
- Magnetic snap closure
- Interior pocket/card slot
- Leather imported from Italy
- Made in USA, in Los Angeles CA!

Measurements
Height: 5 in / 12.75 cm
Width: 8 in / 20.25 cm
Depth: 2 in / 5 cm
Drop: 23 in / 58.5 cm
Related Products
A larger version of our most popular mini chain clutch! Great for every day use, or a night out! - Chain strap detail - Magnetic snap closure - Interior pocket/card slot - Leather imported from Italy - Made in USA, in Los Angeles CA! Measurements Height: 7 in / 17.75 cm Width: 10 in / 25.5 cm Depth: 1 in / 2.5 cm Drop: 23 in / 58.5 cm
$129.00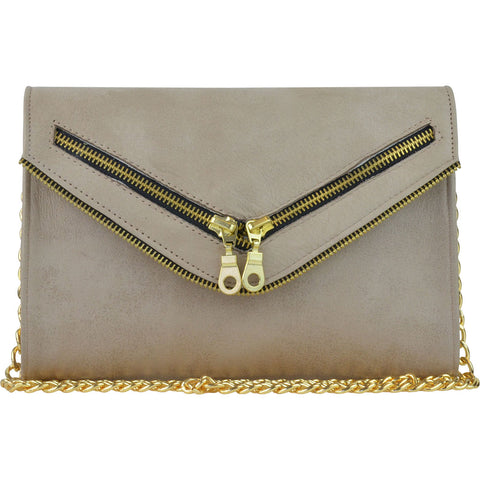 Double zip detail bag with zipper trim edging and chain strap. - Magnetic snap closure - Interior pocket/card slot - Silk/satin lining - Leather imported from Italy - Made in USA Measurements Height: 6 in / 15.25 cm Width: 8.5 in / 21.5 cm Depth: 1.5 in / 3.75 cm Drop: 23 in / 58.5 cm
$195.00

The Ivy Crossbody is the perfect shade of caramel, and made of buttery soft, Genuine Leather. With it's gleaming hardware and adjustable strap, this versatile crossbody can be worn with just about any look! PS: This bag was hand-picked by Rachel Zoe for her Fall 2019 Box of Style! - Magnetic snap closure - Adjustable strap - Interior zipper pocket - Genuine Leather Measurements Height: 6.5 in / 16.5 cm Width: 8.25 in / 20.96 cm Depth: 2.5 in / 6.35 cm Strap Drop (Adjustable): 19 - 22 in / 48.26 - 55.88 cm
$148.00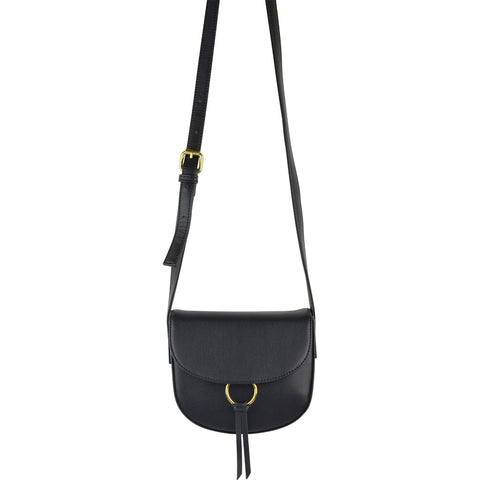 It's back in black! The fan-favorite Ivy Crossbody now comes in Black Leather! With it's gleaming hardware and adjustable strap, this versatile crossbody can be worn with just about any look! PS: This bag was hand-picked by Rachel Zoe for her Fall 2019 Box of Style in Vachetta Leather! - Magnetic snap closure - Adjustable strap - Interior zipper pocket - Genuine Leather Measurements Height: 6.5 in / 16.5 cm Width: 8.25 in / 20.96 cm Depth: 2.5 in / 6.35 cm Strap Drop (Adjustable): 19 - 22 in / 48.26 - 55.88 cm
$148.00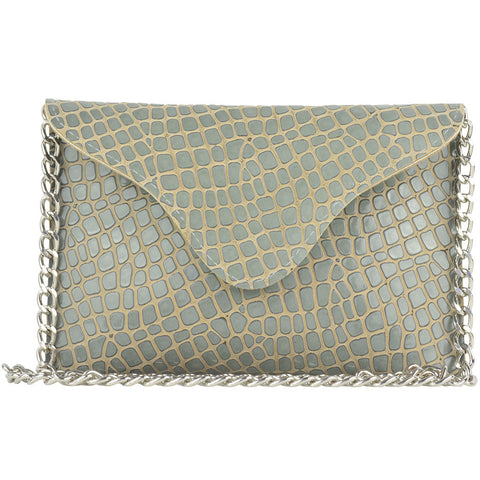 Our most popular chain crossbody! - Chain strap - Magnetic snap closure - Interior pocket/card slot - Leather imported from Italy - Made in USA, in Los Angeles CA! Measurements Height: 5 in / 12.75 cm Width: 8 in / 20.25 cm Depth: 2 in / 5 cm Drop: 23 in / 58.5 cm
$99.00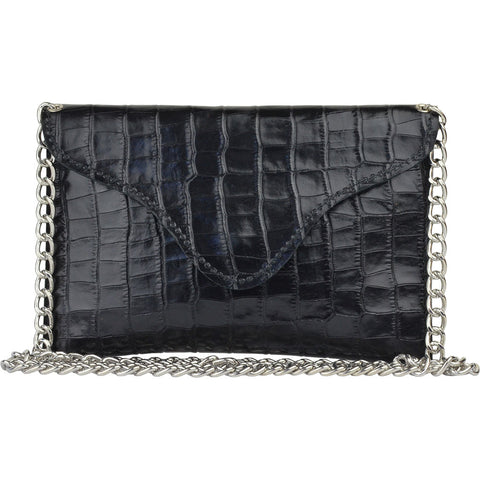 Our most popular chain crossbody! - Chain strap - Magnetic snap closure - Interior pocket/card slot - Leather imported from Italy - Made in USA, in Los Angeles CA! Measurements Height: 5 in / 12.75 cm Width: 8 in / 20.25 cm Depth: 2 in / 5 cm Drop: 23 in / 58.5 cm
$99.00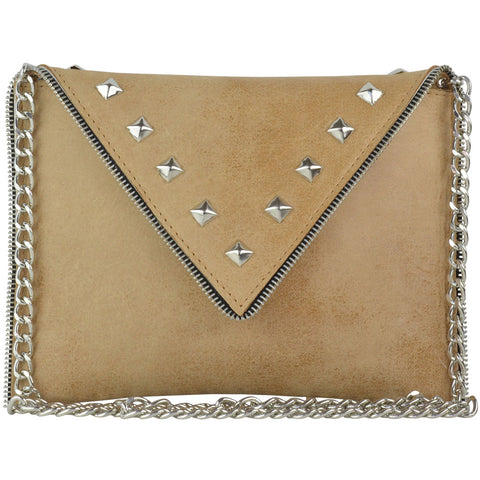 This little envelope chain crossbody has just the right amount of cool with it's pyramid stud detail and zipper edging! - Magnetic snap closure - Interior pocket/card slot - Leather imported from Italy - Made in USA Measurements Height: 6.5 in / 16.5 cm Width: 8.75 in / 22.25 cm Depth: 1 in / 2.5 cm Drop: 23 in / 58.5 cm
$129.00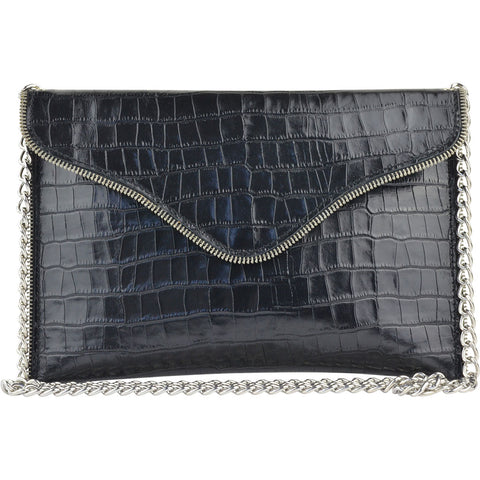 A larger version of our most popular mini chain clutch! Great for every day use, or a night out, sure to fit all of your essentials! - Chain strap detail - Magnetic snap closure - Interior pocket/card slot - Leather imported from Italy - Made in USA Measurements Height: 7 in / 17.75 cm Width: 10 in / 25.5 cm Depth: 1 in / 2.5 cm Drop: 23 in / 58.5 cm
$129.00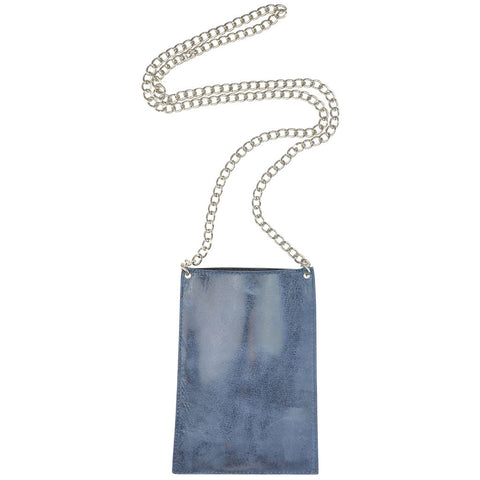 Chain crossbody pouch which doubles as a tech case! Fits all Apple and Droid phones. - Chain strap - Interior magnetic snap closure - PVC lining - Leather imported from Italy - Made in USA Measurements Height: 8 in / 20.3 cm Width: 5.5 in / 14.0 cm Depth: 1 in / 2.5 cm Drop: 23 in / 58.4 cm
$98.00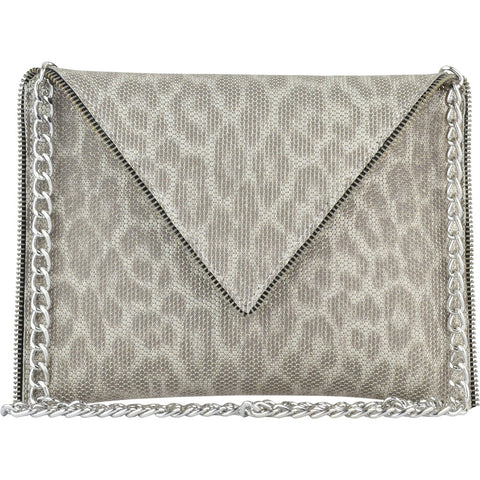 This little envelope chain crossbody has just the right amount of cool with it's zipper edging and embossed leather details! - Magnetic snap closure - Interior pocket/card slot - Leather imported from Italy - Made in USA Measurements Height: 6.5 in / 16.5 cm Width: 8.75 in / 22.25 cm Depth: 1 in / 2.5 cm Drop: 23 in / 58.5 cm
$129.00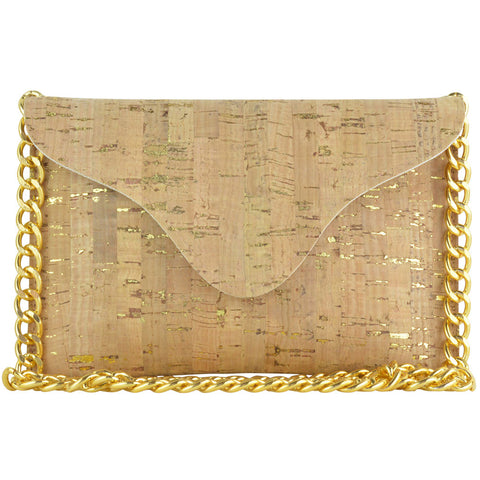 Our most popular chain crossbody now in VEGAN leather! Our cork is totally vegan, cruelty free, and ready to be the center of attention! - Chain strap - Magnetic snap closure - Interior pocket/card slot - Natural fiber cork imported from Spain - Made in USA, in Los Angeles CA! Measurements Height: 5 in / 12.75 cm Width: 8 in / 20.25 cm Depth: 2 in / 5 cm Drop: 23 in / 58.5 cm
$99.00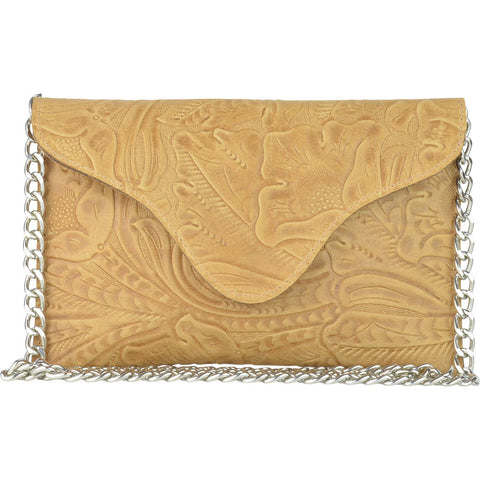 Our most popular chain crossbody! Beautiful floral-embossed Italian leather gives the Miley an updated look, sure to complete any outfit! - Chain strap - Magnetic snap closure - Interior pocket/card slot - Leather imported from Italy - Made in USA Measurements Height: 5 in / 12.75 cm Width: 8 in / 20.25 cm Depth: 2 in / 5 cm Drop: 23 in / 58.5 cm
$99.00